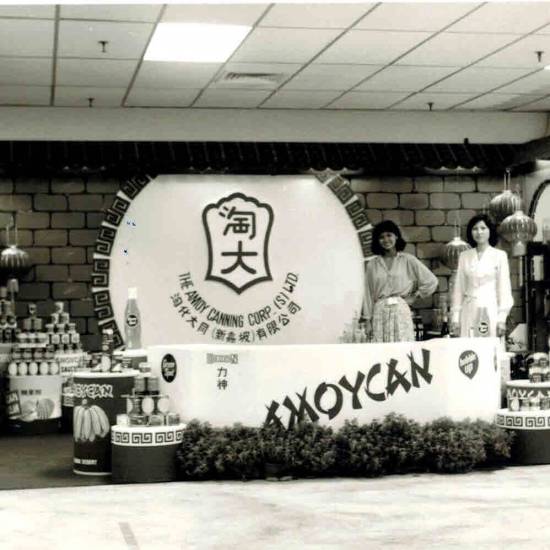 Our HISTORY
Amoy Canning was founded over 110 years ago when the 5th son of our founder, Ng Teng Guan, died of typhoid which was carried by contaminated water, including soya sauce which is not cooked but is used for dipping food in. Concerned about food safety and security for the rest of his family, Ng Teng Guan developed hygienic, home-made soya sauce for his family and friends, which later led to the founding of the company.
Founded in Amoy (Xiamen) in China in 1908, the company first became popular for its home-made recipes of soya sauce and other related products.
Amoy Canning then expanded and started a factory in Singapore in 1951, in Malaysia in 1955, and ventured into Australia in 1994. In Singapore, new local flavoured quality products like Curry Chicken quickly became favourites. Amoy Canning relocated its factory to Chin Bee Avenue in Jurong in 1994 and in 2016, moved to its current premises in Bukit Batok.
Our PRODUCTS
Working closely with regional chefs, Amoy Canning uses time-honoured traditional recipes with quality produce sourced from respected and reliable suppliers to deliver authentic Asian dishes to generations of households across the world.
Over the years, Amoy Canning has revamped its brand identity and introduced many new products in response to changing lifestyles and tastes of consumers.
In the 1950s, its product lines grew to reflect the local flavours in South-east Asia with traditional meat, seafood and curry recipes. In 1980, Amocan ventured into canned drinks, and in 1989, it introduced a range of canned Chinese vegetarian food. In 2000, it encouraged a healthier lifestyle by producing Chinese tonic soups. Halal luncheon chicken was introduced in 2010. In 2014, a new product range of box sauces were introduced to cater to changing lifestyles. Different packaging and product ranges were also introduced in 2016. Amocan's range of traditional canned vegetables have remained popular down through generations and are staple side dishes in many households.
Amoy Canning still honour the founding principles of the company of providing wholesome, tasty, flavoursome products which are hygienic and safe. Without doubt Amocan is a brand which generations of families have come to cherish and trust.
Our PEOPLE
Amoy Canning, now into its fourth generation, is a proudly family-run company of more than 110 years. It has been humbly passed down from generation to generation amidst strong family values and ethics; and the spirit of constant innovation and continuous transformation.
The innovative visionary founder of Amoy Canning, Ng Teng Guan, was a well-known philanthropist and an active leader, and contributor, in business and the community. These values and ethics of giving back and serving the community has continued with his descendants.
We are truly proud and honoured to have a dedicated and loyal team of staff committed to fulfilling our valued heritage of producing the highest quality Asian food for the world.